Video: Frederic Leitzke / Editude Pictures.
City Skins
"City Skins – Marx and Engels" is a project by artist duo Various & Gould as part of the international competition "Art in the Underground – The Middle in Nowhere" (in German: "Kunst im Untergrund – Mitte in der Pampa"). The competition is run by the art society "neue Gesellschaft für Bildende Kunst (nGbK)".

Concept
Monuments are projection screens of collective memory and witnesses of a time period. They reflect history, zeitgeist and models of a political system. In their current project, Various & Gould address this topic, questioning the multiple meanings and ascriptions of public cultural artifacts and the general approach to monuments nowadays.
In an urban intervention, the artist duo has created a papier-mâché cast of the Marx-Engels monument designed by Ludwig Engelhardt during GDR times (1986) and located in the vicinity of the Rotes Rathaus (town hall). The resulting paper sculpture is called "City Skins".
The Marx-Engels monument serves as a remnant of another epoch, which although is still visible after the political upheaval of the reunification and even a popular tourist attraction but whose future is uncertain in the wake of the ongoing construction works in this area. The painted and silkscreen printed paper mould temporarily provided the figures with a new visual appearance being used as a public communication platform gaining center stage again.
Following this, the "City Skin" was literally transported from "Mitte" to the "Pampa" (from the centre to the periphery) and after a ceremonious inauguration on May 20th presented on Place Internationale near Cottbusser Platz in Berlin-Hellersdorf until May 28th.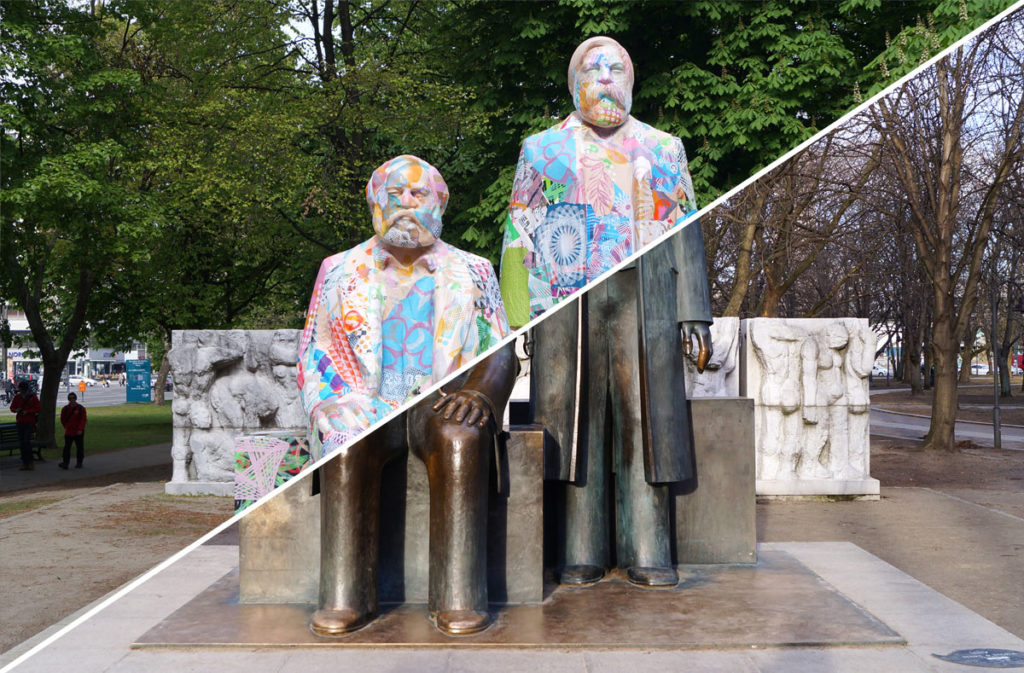 Acknowledgments
Various & Gould would particularly like to thank Britt Janina Heinker for supporting the project! Also many thanks to Adam Page, Karin Kasböck, Amrita Ronniger, Sonja Rentsch, Bob, Garvin Nolte, Axel Krumrey, Annika Hirsekorn, Jan Kage, Boris Niehaus, Frederic Leitzke, Chérie, PC, Dörte, Jens, Aldo Gugolz, Elisabeth von Ketelhodt, Viviane & Kurt Ratter, Polina Soloveichik, Tore Rinkveld, Daniel Sprenger, Malte Klein-Luyten, Tanja Pabelick, Stefan Rusconi und Tavar Zawacki! And thanks a lot to Francois Domain, Claudia and all the other Spring Academy students from Berlin Art Institute!